Hi.  Thanks for visiting our website!
Why are we the most trusted, sought-after and highly recommended pool table movers in Phoenix, Arizona?
Is it because we're this good?
While we don't know the scores of all the basketball games, we can move your pool table with our eyes (pretty much) closed.
Here's why we've got such a great reputation and are so highly recommended:
12 years in business (and going for 12 more, at least!)
8000 pool tables moved all across the Valley and all of Arizona
Tens of thousands of hours in the field
Hundreds of testimonials
Licensed and Certified
A rock solid meet-and-beat Guarantee
and plenty more services besides just pool table transport
Services such as…
Expert pool table refelting
Disassembly of your table
Assembly or reassembly of your table
Free purchase consulting (buy wisely with our expert advice and get the table you deserve)
Recushioning
Replacing worn pockets
Pool cue repair!
 And products like…
Ping Pong Conversion tops
Fitted Covers
Aramith Crown billiard balls
Cue Sticks
Triangle and Nine ball racks
Wall and Floor cue racks
Our expertise is moving pool tables… but we love everything about pool and billiards.
We love the art of the table and the sport of the game.
We love what we do so much that we even have a Guarantee which includes our Meet & Beat policy.
Moving a pool table is a task that requires precision and delicacy.
It's not something you would want to trust to a moving company… unless they're licensed and insured in the niche market of moving pool tables.
And you could try it yourself, but it's probably better to skip the hassle and the learning curve and just get it done quickly…
So give your friendly neighborhood experts a call!
Call us at 602-628-8008 for a quote on a move or to ask any questions regarding pool tables.
We here at Billiards 2U are proud to serve the entire state of Arizona for all pool table moving needs.
Your Friendly Neighborhood Phoenix Pool Table Movers,
-Dan & Team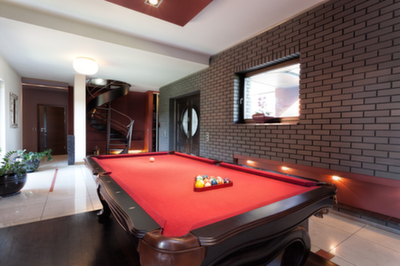 And now for some interesting facts and history of pool…
Once upon a time, people began playing with sticks and stones. Specifically round stones – round enough to be rolled.
These games, dubbed collectively as lawn-and-stick, evolved into the much more well-known sport of golf, as well as others, like croquet.
However, they also changed venues – from being played out under full view of the sky to being enjoyed indoors, on the ground, and later on tables.
Thus, ambiguously, "cue sports" came to be.
Billiard, cue; both are terms commonly known as the game of pool, or some other form of it.
In England, Billiards is a blanket term for any cue game played on a table, with cue sports being another one. Both words, however, are French in origin – since the French first popularized pool's outdoor equivalent as an alternate, modified version of croquet played by Louis XI and Louis XIV in the 15th and 16th centuries.
Pool became popular in the form of table billiards with the time of Mary, the Queen of Scots – and the history of pool then trickled from the aristocracy to the cafes of Paris, and the pubs of England.
The cue as known today was finally developed near the start of the 19th century – around then, the concept of striking the balls was first introduced, as previously, the games were played by pushing balls along a table.
Tables began using cushions, with balls made of wood and clay, to get the balls to bounce and increase the difficulty and versatility of the game.
Eventually, pockets were cut into the table, and the objective shifted from having the balls hit each other to avoiding, or aiming for the pockets.  This lead to the term "pool" being used in billiards, and eventually led to the popularization of pool games in America when the game was introduced there.
However, pool as it was initially known in America was a pocketless billiard game known as Carom billiards, in which the objective of the game was to ricochet your cue ball off the opponent's cue ball, while hitting the other balls in the process and collecting points. Pocket billiards gained a larger popularity, however, and retained the term of pool.
In America, pool had an on and off relationship with the country in terms of popularity – it faded away prior to World War II, despite having annual championships and a considerable base of players – and post-World War II, it disappeared into obscurity again.
Hollywood revived the game in the 60s with The Hustler, which reignited interest and lead to the eventual popularity of pool games today.
Here's an impressive clip from that film:
Give us a call today! (602) 628-8008