Pool Table Movers Peoria, AZ
When it comes to the good, better and best Pool Table Movers in Peoria, we don't like to boast or even claim to be in the top tiers of excellence…
But we have a lot of evidence to support the groundbreaking theory that we are.
Evidence and a track record like this:
8000 pool tables moved all across the Valley and all of Arizona
Tens of thousands of hours in the field
11 years in business (and going for 11 more, at least!)
Rock solid Guarantee
Meet & Beat price policy
Hundreds of testimonials
and plenty more services and products besides just pool table transport
See, we take great pride in serving our community to the best of our ability.
What else would convince you?  Our ability to sink balls with incredible consistency?
That's like us when we were just starting… we have a gift.
Or maybe we can give you some free advice on a pool table you're about to buy?  We do that, freely, gladly.
Here's some free advice to help you improve your pool game dramatically.  Just one little "trick":
Of course, we won't stop there. We'll also beat any competitor's price, as long as they're licensed and insured.  So call us for superior, more affordable service!
How about our other services?  Things like:
Table disassembly
Table assembly or reassembly
Purchase consulting (choose wisely with our expert advice)
Replacing worn pockets
Recushioning
Refelting
and more… just ask!
Our first priority is making you completely happy with our service, knowledge and products.  Superb customer service is top of the list for us… and should be for any service company, don't you agree?
We also offer great products to help complete or complement your billiards set and game room.
Ping Pong conversion tables
Balls and ball racks
Pool cue racks, chalk, cases, and tips
And of course, pool tables! We'll set you up with the style and specifications you desire.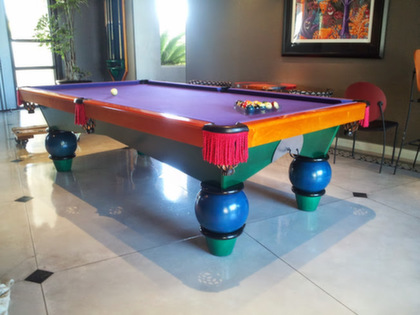 (Sweet table, right?  We moved that and put it back together, good as new!)
In our extensive experience we've found that it's better to hire a professional pool table moving company than to try to move it yourself.
Also, we recommend NOT hiring someone unless they're insured and licensed.
… Because one of the hardest parts of this whole process is trying to put it back together perfectly yourself…
So, trust in the pool table moving experts in Peoria and Phoenix metro.
… And guess who that is?
Us, silly.
The evidence is in.
Give us a call at 602-628-8008
Let us prove to you how good we are and how much passion we have for you, your table, and pool itself.
Your friendly neighborhood experts,
Dan & the B2U Team